Description
Description
The temperature and humidity control in proofer mode is perfect for rising and fermenting yeast bread dough or sourdough. Perfect for fermenting and rising bread, and a huge variety of other foods.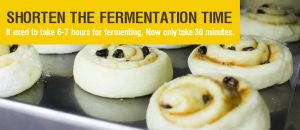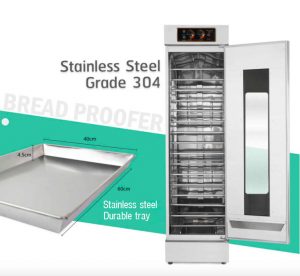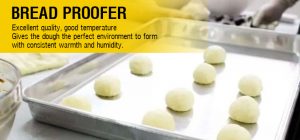 FEATURES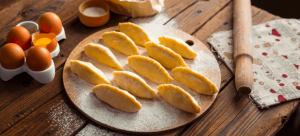 Fermentation process of the starch allows yeast digest sugar and breakdown the enzyme-controlled of an energy-containing compound, such as carbohydrates into carbon dioxide and alcohol.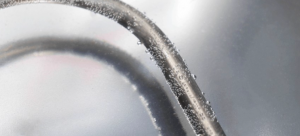 The heater steam the fermentation 2-3 times faster than usual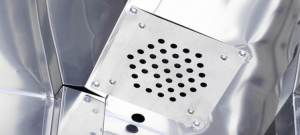 The air vents helps to circulate and keep the temperature at a constant level.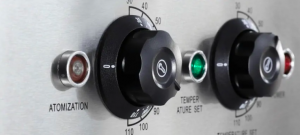 Fermentation time and temperature settings can be adjusted according to various situations.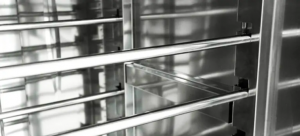 The material inside the cabinet is stainless steel grade 304 that can be easy to clean and maintain.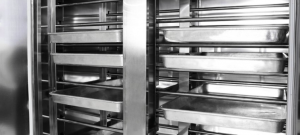 Have many tray slots.
DETAILS




How to use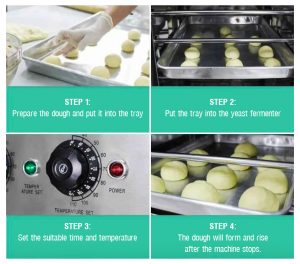 WARRANTY
(Product Warranty Conditions)
Warranty for a new device from the date of purchase is 1 year. This warranty does not cover any products or parts. That has been damaged or damaged due to
1. There are abnormal conditions in the form of a broken, broken, chipped, bent, collapsed, deformed, cracked, pierced, missing part.
2. The product has been modified, or repaired by someone other than the company service center.
3. There is a condition that should not occur with normal use or incorrect storage, such as water stains, rust marks, moss, burns
4. Products have been used incorrectly or have incorrect storage. Or an accident with the product
5. Damage caused by connecting peripherals
6. Product damage due to external factors such as power failure, overload, lightning etc.
7. Damage caused by natural disasters
8. Damaged products resulting from neglect not to clean after use
*** Note
– If the product is not within the warranty terms, customer can send the machine to our service center to repair at a cost
HOW TO ORDER
 Order by phone at: (+65) 88914519
CONTACT US
Automicom Pte Ltd
Showroom: 34 Boon Leat Terrace, #02-01 Singapore 119866
Telephone/WhatsApp: (+65) 88914519. Email: inquiry@automicom.com
Facebook: www.facebook.com/SGEsg
Website: www.sgesg.com