Description
SGE  distribute a wide range of standard Bone Saw machine includes 13 cm and 19 cm size. SGE bone cutters are designed and developed for commercial use. With 1500W copper motor power, it can easily cut meat, ribs or bone. Imported blades from Germany with a 1 year warranty.
Can be used continuously for 1 hour, rest 15 minutes.

Can cut pork bone, bone saw, fish cut, ribs saw, pork leg cutting, with an uniform thickness of every piece.

The meat tray is made of 304 stainless steel to prevent from rust.

The upper saw blade support can be adjusted up and down.

The numbers clearly indicate the size of the meat slicing.

Supplemented with a piece of meat holding platform prevent your hands from touching the blade.
Multipurpose shredder, waterproof model BC190-PRO
Cut pieces of meat or shred easily.  It supports various sizes of meat. It is also waterproof, IP65 standard and internationally recognized.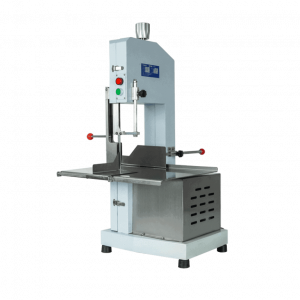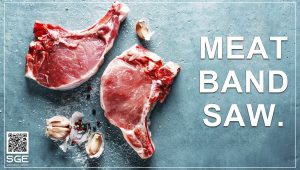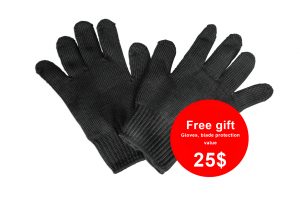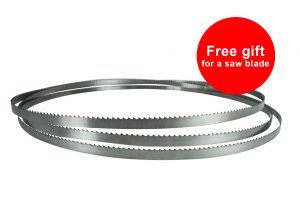 Pork bone cutter size (Model Size)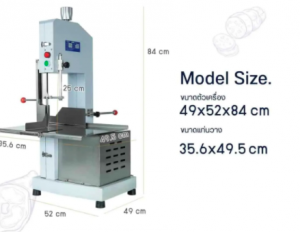 Characteristics of the machine (Feature)
| | |
| --- | --- |
| | BC190 Pro |
| Power | 750W |
| Volt | 220V/50Hz |
| Thickness | 0-19cm |
| Speed | 1170r/min |
| Table size | 48*38cm |
| Saw Blade Length | 169cm |
| Machine size | 50*50*92cm |
| Gross weight/Net weight | 47kg/39kg |
| Blade support | 26cm |

Imported saw blade: Strong And having high flexibility, against rust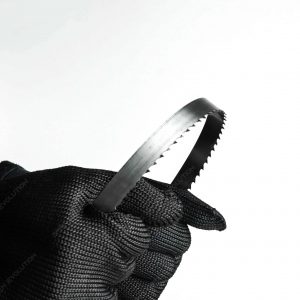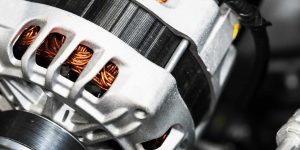 Motor Copper (Copper Motor)
1500W  motor copper power, increase productivity. Continuous working for 1 hour with 15 mins rest time.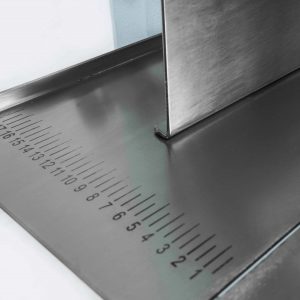 Maximum thickness can go up to 19cm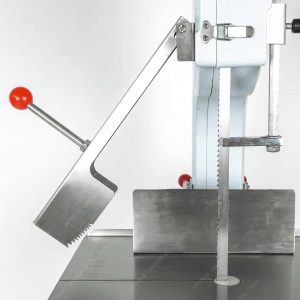 Meat holding platform
Protect your hands from hitting the saw blade that may be a hazard to work.
Can cut pork bones , Bone saw, fish cut, rib saw, pork leg with the thickness of every piece can be wrapped evenly. Meat tray is made of 304 stainless steel preventing from rust.
Example of using BC model (Sample)
Soft bread cutting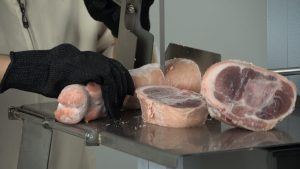 Pork bone cutting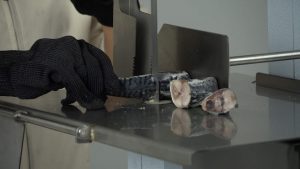 Frozen fish cutting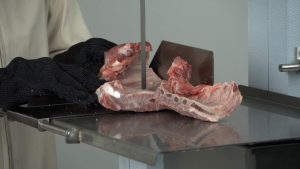 Pork ribs cutting
Tip:
*** Keep out of reach of children. For safety
*** Machine should be cleaned with a damp cloth, and apply oil to the blade after every use
*** Do not allow water to enter the machine. It may affect circuit board causing damage
How to use the pork bone cutter  (Step by Step )
Plug in power plug , 220V power.
Adjust the thickness of the pieces to be cut at the side of the machine
Press the green button to start operating the blade. (Do not let anything remain on the saw blade)
Wear gloves to bring the meat to the table. Use a stand to push the meat pieces into the saw blade.
After work is done Switch off the red button Wipe clean
Unplug from the mains.
Cautions in use (Warning)
Check the electric wire before every use
Always turn off the power after use.
Always check the blades regularly. At least once a week
What's in the box?
1. Pork Bone Cutter
2. 5 spare saw blades
3. Manual
4. 1 pair of knife protection gloves
FAQ (Frequently Asked Questions)
Can BS machine cut fresh pork?
BS 130/190 are suitable for frozen pork. It is not recommended to slide fresh pork. Because the meat is flexible, it can make the cut not as beautiful as it should be and it is difficult to determine the thickness of the meat.
2. Can  the meat thickness be adjusted?
The thickness can be adjusted from 0-19 cm.
3. How many models are there for SGE Bone Saw Machine?
Right now, SGE has 2 models:
Pork bone cutter, 13 cm. (BC130) and 19 cm. (BC190)
Pig Bone Cutter, Universal, Waterproof, 19 cm (BC190-Pro) (for Thailand)
4. How long is the warranty?
SGE BC has a 1 year warranty
6. If the device is broken. Are spare parts sold separately?
SGE offers spare parts. Throughout the service life There is a team of technicians to provide after-sales service throughout.
WARRANTY
(Product Warranty Conditions)
Warranty for a new device from the date of purchase is 1 year. This warranty does not cover any products or parts. That has been damaged or damaged due to
1. There are abnormal conditions in the form of a broken, broken, chipped, bent, collapsed, deformed, cracked, pierced, missing part.
2. The product has been modified, or repaired by someone other than the company service center.
3. There is a condition that should not occur with normal use or incorrect storage, such as water stains, rust marks, moss, burns
4. Products have been used incorrectly or have incorrect storage. Or an accident with the product
5. Damage caused by connecting peripherals
6. Product damage due to external factors such as power failure, overload, lightning etc.
7. Damage caused by natural disasters
8. Damaged products resulting from neglect not to clean after use
*** Note
– If the product is not within the warranty terms, customer can send the machine to our service center to repair at a cost
HOW TO ORDER
 Order by phone at: (+65) 88914519
CONTACT US
Spring Green Evolution Pte Ltd
Showroom: 66 Tannery Lane, Sindo Building, #04-09. S347805
Telephone/WhatsApp: (+65) 88914519. Email: info@sgesg.com
Facebook: www.facebook.com/SGEsg
Website: www.sgesg.com